YSpace is York University's community innovation hub located in Markham Centre. We support a growing number of innovators and entrepreneurs to create a thriving and robust pipeline of startups that will build and scale their sustainable and impactful businesses in York Region.
As the community develops, YSpace is positioning itself as a community leader, as well as a leading business incubator and a catatlyst for business transformation. We offer a variety of programs and a premium fabrication space that provide support to entrepreneurs and startups from ideation to growth. Our goal is to become a centralized resource hub that will help entrepreneurs find the mentorship, network, and support system within the community to help them succeed.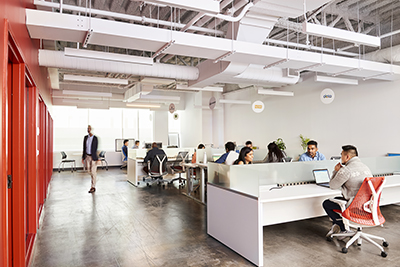 YSpace is now home to 22 startups across a variety of industries and sectors. Learn about our growth plans in our 2018 Annual Report
Below are some of the results that our ventures have generated. For more information about our startups, programs, and event rental opportunities, go to www.YSpaceYU.ca.

What We Offer
We have designed a custom suite of programming that supports entrepreneurs, students as well as youths. Our focus is to develop a suite of diverse programming to support our incubated startups. We are cultivating and driving innovation and collaboration with entrepreneurs, students, tech experts, government members, and industry leaders.

Some of our programs include Ideation Consultations, Founder's Fundamentals, and the YRDSB's Youth Innovation by Design Course.